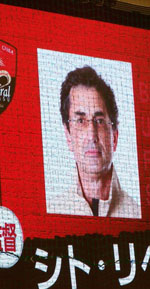 Details:



Name: Tomas
Surname: Rivera Amoros
Nickname: Sito
Date of birth: 15/3/1956
Place of birth: Mataro (Barcelona)
Height (cm) : 178
Weight (kg) : 72
Hair color: Negro
Eyes color: Marron
Particular signs:
Profession: Coach Futsal
Engaged with:
Children: 2, Maite y Pol (20 y 14)
Shoes number: £´£³
Shoes trademark: Munich
Sportsman: Johan Cruyff
Futsal Player: Daniel
Futsal Coach: Venancio
Futsal President: Miquel Bermusell
Futsal League you would like to play:
LNFS
Match you remember (+):
Bardral Urayasu ¨C Nagoya Oceans Final Puma Cup 2008
Match you remember (-):
Polaris ¨C El Pozo , semifinal del Liga 2005. Tercer partido derrota con gol de oro de doble penalti
Goal you remember:
Gol de Torras, quinto (5-1) tras dar trece pases seguidos el equipo sin que interviniera ningun contrario y recorrer el balon toda la pista en ambos sentidos.

Career:
1977-1985 Futsal Player U.E. Mataro. F.S. Vilassar.
1987 C 1997 Entrenador F.S. Vilassar de Mar.LNFS
1992 Seleccion Catalana Juvenil
1997-2000 NINTENDO GAVA, LNFS
2000-2001 Martorell, LNFS
2001-2002 PEPSI GAVA, LNFS
2002-2003 PEPSI GAVA, LNFS
2004 MANRESA, LNFS
2005-2006 POLARIS CARTAGENA, LNFS
2006-2007 MARTORELL FS, LNFS
2007-2008 BARDRAL URAYASU, F. LEAGUE (JAPON)
2007-2008
Subcampeon F.League Japón.
Campeón PUMA CUP. BARDRAL URAYASU (JAPON)
SEMIFINALISTA CALCIO A 5, LIGA ITALIA. NAPOLI (ITALIA)
2008-2009
Subcampeón F. League Japón. BARDRAL URAYASU.
PLAY OFF CALCIO A 5 ITALIA. NAPOLI
COACH SELECCION DE RUMANIA. 3ª Clasificado en GRAND PRIX (BRASIL)
2009-2010 CAMPEON SUPERCOPA RUMANIA. Futsal DEVA.
SEMIFINALISTA COPA ITALIA. LUPARENSE
SEMIFINALISTA CALCIO A 5 ITALIA. LUPARENSE
SEMIFINALISTA FINAL FOUR UEFA FUTSAL CUP. LUPARENSE
COACH SELECCION DE RUMANIA.
2010-2011
ENTRENADOR TIRGU MURES (RUMANIA)
COACH SELECCION DE RUMANIA.

Football
Player 1964-1976 JUVENTUS A.C.

Year Futsal Sallary: .......

Drink: Cerveza
Food: Marisco
Car, Your Car: Nissan
Clothing: Informal
Color: Rojo
Actor: Al Pacino
Actress: Penelope Cruz
Film: En el nombre de la rosa
Book: El arte de la Felicidad. Dalai Lama

Women you like: Maria Teresa, mi esposa
Music: Toda en general
Singer: Fito Fitipaldi
Town for living: Sant Andreu de Llavaneres (Barcelona). Tokio
Place for holidays: Santa Pola ( Alicante)
Football club you like: Juventus A.C. (Mataro)
Pet (animal) : Perro
Game you like: Futsal. Paddel. Tenis de mesa.
Politic: Socialista
3 wishes:
Paz
Que se acabe el racismo
Y el hambre en el mundo

Without Futsal what you would like to do:
Estar con mi familia,
Particular Hobbies:
Practicar futbol ,futsal con mis amigos.
Jardineria.