Web:
http://www.futsala.com/evamanguan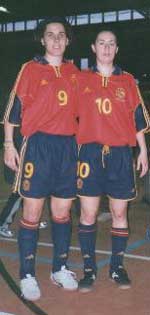 Details:



Name: Eva
Surname: Manguan
Date of birth: 15/3/1979
Place of birth: Madrid (Spain)
Heiht: 174 cm
Weight: 62 Kg
Actual Club (2002): Rayo Mejorada-Futsi
Futsal Shoes Number: 41
Futsal Shoes: Sponsorized by John Smith
Study: T.A.F.A.D
Futsal Player: Paulo Roberto.
Football club: Real Madrid.
Football Player: Ronaldo.
Drink: Batido de Chocolate
Food: Macarrones
Car: BMW
Film "Eternamente Joven" and "Ghost"
Music: "Romantica"
Singer: Luis Miguel
3 Wishes:
To Know Ronaldo,
Play Futsal with him
Futsal Olympic Sport
Hobbies: Sports in generally

Palmares:
Mejor jugadora torneo Internacional de Italia Paolo Sias 2002.
Maxima goleadora europea en el II sudamericano celebrado en chile 2002.
Trofeo a la mejor jugadora de la Comunidad de madrid. 1999.
Dos campeonatos de Espaqa de selecciones.
Maxima goleadora del campeonato en cuatro ocasiones.
Internacional 20 ocasiones.
mejor jugadora Trofeo Cervantes. en dos ediciones
mejor pivot segun la revista cinco v cinco.
etc.......