EREMENKO'S Farewell Match

5.11.2001 - 18.30 - Luzhniki Hall
Moscow (Russia)

One of the best futsal player in the World Konstantin Eremenko will close his great futsal carrier next 5th of Nowember.
The Farewell match F.C. DINA - WORLD STARS TEAM will be organized in Moscow under the FIFA supervision.

Foto (courtesy www.dina.ru):
Thank You "Kosta" ...

Latest News !

HOT
1st UEFA FUTSAL CUP - Qualifier Tournaments

HOT
- 21-22.11.2001 Val de Marne (FRA)
4 NATIONS CUP

The Best World Futsal Leagues 2001/2002

HOT
3rd TIGER 5s (Coming Soon)

World Player of the Year 2000 Awards

- Futsal and Olympic Games ?!
- FUTSAL LAWS OF THE GAME

- Send Us Futsal News !
- Add Your Futsal Link
- Subscribe for Futsal Revues>
- Promove Your Futsal Company
- Add Your Tournament


Attendence World Record: 25.713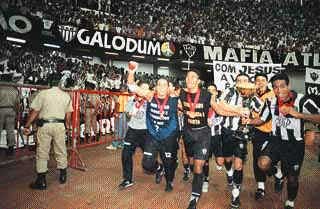 ATLETICO / PAX DE MINAS vs. RIO DE JANEIRO / MIECIMO
IV LIGA FUTSAL - FINAL (2nd match) - Belo Horizonte, MG - Brasil
Mineirinho Gimnasium Hall - 8 August, 1999 - 11:15 hs.

Welcome to Futsal Planet.........
Futsal=(F¨tbol de Sal˛n, Futebol cinco, Futbol de Sala, Football en Salle,
Foot en Salle, Petit Football, Football a cinq, Small-Sided Football,
Calcio a Cinque, Calcetto, Mali Nogomet, Hakl, Mali Balun, Hallenfussball,
Mali Fudbal, Indoor Football, Futsalao, Fut-5, Mini Football, Five a Side,
Mini Futbol, Minifootball, Kleinfeldfussball, Gol Koochak, Zaalvoetbal,
Salifutis, Terem Foci, Pilki Noznej Piecioosobowej, Kat-Regel, ...)






2000/2001
Andorra
Armenia
Azerbaijan
Belarus
Belgium
Bosnia & Herzegovina
Croatia
Cyprus
Czech Republic
Finland
France
Georgia
Greece
Hungary
Israel
Italy
Latvia
Lithuania
Macedonia
Moldova
Netherlands
Poland
Portugal
Russia
Slovakia
Slovenia
Spain
Ukraine
Yugoslavia

Lebanon

Argentina
Brazil
Costa Rica
Japan
USA
Canada
Suriname
Uruguay
Per¨