Web:
http://www.thefpl.com/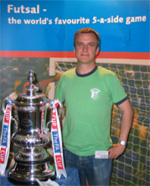 Details:



Name: Gary
Surname: Macbeth
Date of birth: 15/2/1963
Place of birth: Glasgow, Scotland
Height (cm): 173
Weight (kg): 63.5
Hair color: Brown - heading grey ):
Eyes color: Green
Profession:
Entrepreneur & Venture Catalyst.
Former IT consultant.
Founder of www.girls4sport.com
Engaged with:
Rebecca Ciallella (to be married, June 2006)
Children: 0
Shoes number: 40
Shoes trademark: Dal Ponte / Munich
Sportsman: All positive spirited athletes
Futsal Player: Adriano Albano, Kickers (FPL England)
Futsal Coach:
Futsal President:
Futsal League you would like to play:
Futsal Premier League (www.thefpl.com)

Match you remember (+): Too many to mention.

Match you remember (-): Any game I lost.

Goal you remember:
Archie Gemmell, Scotland v Holland (World cup – 1978)
Kenny Dalglish, all goals for Celtic and Liverpool
Maradona – Argentina v England

Career:
Football
Played all my life. Broke leg playing football at age 40. Ouch!

Futsal
Discovered futsal too late in career.
Too old now J and play now just for fun.

Year Futsal Sallary:
After the Player Career you will remain in Futsal:

Drink: Beer, Single Malt Whisky
Food: Lots of stuff
Car, Your Car: Acura, Jensen Healey
Clothing: Yes, prefer to wear clothes most days
Color: Green, Navy
Actor: Sean Penn, Morgan Freeman, Jack Nicholson, Vincent Cassel
Actress: Audrie Hepburn, Naomi Watts
Film: Too many to mention
Book: E-Myth Revisited
Women you like: Secret. But especially Rebecca Ciallella
Music: Variety
Singer: My dad
Town for living: anywhere with a beach, and waves to surf
Place for holidays: anywhere with a beach, and waves to surf
Football club you like: Celtic, Liverpool
Pet (animal): Mac (my dog – now deceased)
Game you like: Most sports.
Politic: Do the Right Thing
3 wishes:
Peace in world,
Pro Futsal in UK,
Happy, healthy family.

Without Futsal what you would like to do:
Stay involved in sport business. Surf, sail & ski more.

Particular Hobbies:
Love sport and business in sport. Surfing, sailing, skiing, movies.