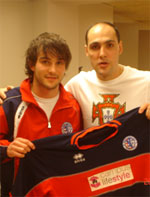 Details:



Name: Damon
Surname: Shaw
Date of birth: 23/02/1984
Place of birth: Whalley, Blackburn, UK
Height (cm): 171
Weight (kg): 74
Hair color: Dark Brown
Eyes color: Hazel
Profession: Community Liaison Officer @ Darlington Football Club
Futsal Function:
Chairman and coach of Middlesbrough Futsal Club
Chairman of Tees Valley Futsal League
Organiser of Leagues and tournaments
Sportsman: Ryan Giggs.
Shoes: Kelme
Kit: Errea
Futsal Player (pro):
Javi Rodriguez, Fernandao
Futsal Player (Eng):
Jason Kilbride, Robbie Bettson
Futsal Coach:
Marc Carmona, Orlando Duarte, Marcos Aurelio, Peter Sturgess
Futsal League you would like to play: England or Spain

Match you remember (+):
vs. Loughborough. We won the league, beating FA Futsal Cup finalists 7-3 with the best performance of the season.

Match you remember (-):
vs. PSG Mostoles. We lost 26-2. It was such a difficult game at the end of a tour. We had lost most of our players through injury and we had nothing left in our tank to do anything. It was demoralising, but a massive indication of how far English futsal has to go.

Goal you remember:
In the British University Futsal Cup semi final, we had played a very good first half and started the second half with kick off. We set it up so that we would shoot direct from centre, and within 1 second we had extended our lead!

Career:
Coach

University of Teesside 2005-2009

York Futsal Open runner-up 2006
Tees Valley Futsal Cup runner-up 2006
Dynamic Cup Plate runner-up 2006
Tees Valley Futsal League winner 2006
British University Futsal Cup winner 2007
British University Futsal Cup semi-final 2008

British University Futsal Plate winner 2009

Middlesbrough Futsal Club 2007-2010

York Futsal Open winner 2007
FPL North runner-up 2007
Tees Valley Futsal League winner 2007
Tees Valley Futsal League winner 2008

Tees Valley Futsal League winner 2009

North Riding Futsal Cup winner 2009

FA Futsal League North winner 2009

Drink: Tea
Food: Italian
Color: Green/Blue
Actor: Christian Bale
Actress: Zooey Deschanel
Film: Scarface
Book: The Gloryhunter
Music: Almost anything
Singer: Zooey Deschanel
Town for living: Barcelona
Place for holidays: Somewhere different to the rest
Football club you like: Manchester United, Darlington
Game you like: Football Manager
3 wishes:
For futsal to turn pro in England,
to end world poverty,
to see the whole world.

Without Futsal what you would like to do:
Travel

Particular Hobbies:
Futsal, Futsal and watching football and futsal.