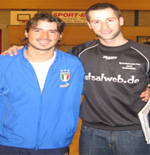 Details:



Name: Sassi
Surname: Naim
Nickname: Goody
Date of birth: 11.02.1981
Place of birth: Leipzig (Germany)
Height (cm) : 187
Weight (kg) : 70
Hair color: Brown
Eyes color: Brown
Profession: Futsalmarkt.com, Futsalweb.de, International Futsal Wesel e.V., Futsal Lions Düsseldorf e.V., Futsal Panthers Cologne e.V.; InterFut.Org, Prime Nights Entertainment, Futsal-Store.com
Engaged with: Didn`t found the right one! ;-)
Children: No
Shoes number: 42
Shoes trademark: Adidas
Sportsman: Mohamed Ali
Futsal Player: Joel, Falcao, Youssef el Badey, Najib el Alouchi, Matthäus Cwiek
Futsal Coach: Jan Harting Sr.
Futsal League you would like to play: Eredivisie

Match you remember (+):
Inter Wesel against Orient Plaza. Maked them all Crazy. Hehe…. Cefa Tournament 2004 Montreaux… scored an amazing Penalty for a died friend M. Batantaris! Rest in Peace my Friend!

Match you remember (-):
Inter Wesel against UFC Münster! Lost because we got horrible Referees!

Goal you remember:
Montreaux / Switzerland

Career: Not real Succes! To much Trixx!
Football

Futsal
President International Futsal Wesel

After the Player Career you will remain in Futsal:
Manager and Organisator

Drink: Fruit Cocktails
Food: Oriental and German
Car, Your Car: Lexus, VW Golf
Clothing: Modern & Sportiv
Color: Yellow
Actor: Samuel Jackson, Dave Chappelle, Will Smith
Actress: Penelope Cruz, Halle Berry, Eva Mendez
Film: Against all Rules!
Book: The Alchemist
Women you like: With Temprament
Music: Black Music
Singer: Boys2Men
Town for living: Wesel
Place for holidays:
South France & Algeria, Holland, Turkey and Germany
Football club you like: FC Barcelona / Olympic Marseile / Inter Milano
Pet (animal) : No….but I like German Dog
Game you like: Pro Evolution Soccer
3 wishes:
World Peace, Health, Futsal in Germany and Algeria

Without Futsal what you would like to do:
I would Die!

Particular Hobbies:
My Hobby is my Job! Thank you God!