Web:
http://libya-football-matches.blogspot.com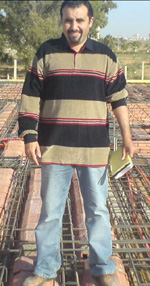 Details:



Name: Hussein
Surname: Budejaja
Nickname: Hasona
Date of birth: 11/5/1970
Place of birth: Benghazi (LYB)
Height (cm) : 179 cm
Weight (kg) : 82 kg
Hair color: black
Eyes color: brown
Profession: Civil Engineer
Engaged with: married
Children: Ala
Shoes number: 43
Sportsman: Terry, Henry, Nesta, Tarek Altaib (Libya)
Futsal Player: Shahood (Libya)

Match you remember (+):
19/09/2005 - Tripoli (LYB)
North Africa Futsal Cup 2005
Libya vs Tunisia 12-6
Match you remember (-):
24/07/2005 - Cairo (EGY)
Cairo - Egypt 2005
Lebanon vs Libya 8-5
Goal you remember: One Shahood goal
27/05/2006 - Tripoli (LYB)
Friendly Match
Libya vs Tunisia 5-0

Drink: Juice
Food: Pizza
Car, Your Car: Any car which I move with !!!
Clothing: Sports
Color: Blue
Book: Sports Books
Women you like: My wife
Music: 80 Songs
Town for living: My town
Place for holidays: Sea side
Football club you like: AC Roma
Game you like: Football, Futsal
Politic: Love Football, Futsal
3 wishes:
1)Healt
2)Happiness
3)To se Lybia in a very good ranking position!!!

Without Futsal what you would like to do:
Football, Internet, Sports, Swiming ...