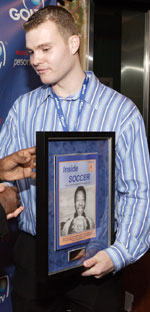 Details:



Name: Kris
Surname: Fernandes
Date of birth: 31/08/1982
Place of birth:
Toronto, Canada
Height (cm) : 183
Weight (kg) : 185
Hair color: Blonde/brown
Eyes color: Green
Profession:
Reporting Director in Sports Information and freelance journalist
Futsal Player: Manuel Tobias
Futsal League you would like to play:
Spanish Division de Honor or Portuguese Premiere.
Match you remember :
Spain v Portugal UEFA semi-final 07. Every second counts!
Goal you remember: Way too many to count!
Drink: Orange juice
Food: Chouriço, BBQ'd anything and lots of rice, beans and potatoes
Actor: Rivaldo
Actress: Francesco Totti
Film: The Shawshank Redemption
Book: How Soccer Explains the World
Women you like: All women are beautiful
Music: Rock, House
Place for holidays: Vienna, Austria
Football club you like: SL Benfica, Toronto FC

3 wishes:
1) For the Canadian Soccer Association to make futsal a priority.
2) To help create a super-league of futsal in North America
3) For Falcao to wear one of my Futsal designs!

Without Futsal what you would like to do:
Working in sports business.
Particular Hobbies:
All Sports but I really love football, mixed martial arts, and ice hockey. I very much enjoy a large bbq with friends and family.