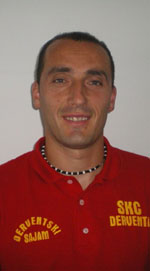 Details:



Name: Dejan
Surname: Plisnic
Date of birth: 26/12/1975
Place of birth: Bugojno, BIH
Height (cm) : 188
Weight (kg) : 92
Hair color: black
Eyes color: green
Profession: elektrotechnic, working in Derventa sport centar
Engaged with: Mirjana
Children: three sons: Neven, Aleksandar, Jovan
Shoes number: 43
Shoes trademark: adidas
Sportsman: Michael Jordan
Futsal Player: Rajic Predrag

Match you remember (+):
KMF Derventa - KMF Radnik Bijeljina 8-3

Match you remember (-):
KMF Derventa - KMF Brcko 4-7

Goal you remember: I am a goalkeeper.

Career:
Football
1988-1992 Iskra Bugojno
1993-1995 Podgrmec Sanski Most
1995-1998 Krila Krajine Banja Luka
1998-2003 Ljubic Prnjavor
2003-2005 Borac Banja Luka
2005-2008 Ljubic Prnjavor
2008-2008 Polet Brod
2008-2010 Sloga Doboj

Futsal
2007-2010 KMF Derventa

After the Player Career you will remain in Futsal:
Futsal president of KMF Derventa

Drink: Coca cola
Food: potato and meat
Car, Your Car: Peugeot 307
Clothing: adidas
Color: red
Actor: Brad Pit
Actress: Julia Roberts
Film: "Petparacke price"
Book: War and peace - Tolstoj
Women you like: My wife - Mirjana
Music: Rock
Singer: Džoni Štulic
Town for living: Derventa
Place for holidays: Porec, Hrvatska
Football club you like: Juventus
Pet (animal) : Dog
Game you like: Call of Duty
Politic: not interested
3 wishes:
1. Health
2. Happy
3. Enough money for normal living

Without Futsal what you would like to do:
I working in Derventa sport centar, playing football and futsal, that is enough for me.

Particular Hobbies:
No time for that, every free moment I want to spending with my kids.