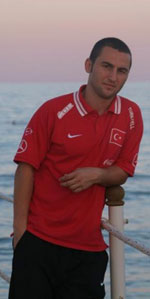 Details:



Name: Tayfun
Surname: Kiy
Nickname: Atom Ant
Date of birth: 6/10/1982
Place of birth: Istanbul
Height (cm) : 173
Weight (kg) : 65
Hair color: Brown
Eyes color: Hazel
Profession: The Specialist of Public Relations and Advertising
Shoes number: 40
Shoes trademark: Joma
Sportsman: Jose Mourinho and Team Hoyt (Dick & Rick Hoyt)
Futsal Player: Ricardinho
Futsal Coach: Orlando Duarte
Futsal President: Gündüz Tekin ONAY

Futsal League you would like to play:
Spanish Division De Honor

Match you remember (+):
Turkey – Turkmenistan – 08 May 2007 (8-8)

Match you remember (-):
Turkey – Holland – 29 September 2007 (3-3)

Goal you remember:
Euro Futsal 2007 Portugal – Spain, goal scored by Ricardinho.

Career:
Football in Turkey and Northern Cyprus.
Futsal in Turkey, Northern Cyprus and United Kingdom

1992 – 2000 Turkey (Football)
2000 – 2007 Northern Cyprus (Futsal)
2007 – 2008 United Kingdom (Futsal)
2008 – 2010 Turkey (Football & Futsal)

Football
K.I.Y from age ten to twenty one.

Futsal
E.M.U., Kickers and Yalova Futsal Club from age twenty one to twenty eight.

Year Futsal Sallary: -
After the Player Career you will remain in Futsal:
I am going to be a coach in Futsal and I would like to be a hero like Gündüz Tekin Onay. (Turkish People called him as "Project Man")

Drink: Cold Milkshake chocolate. Especially after training.
Food: All of my mother meals.
Car, Your Car: 1967 Shelby GT 500 Eleanor / Fiat
Clothing: Sports
Color: Black & White
Actor: Robert De Niro – "You talkin' me?" (Taxi Driver)
Actress: Vivien Leigh – "As god is my witness, I'll never be hungry again." (Gone with the Wind)
Film: The Shawshank Redemption (1994)
Book: NUTUK (1927) Written by Mustafa Kemal ATATÜRK
Music: Pop, Latin and Classical
Singer: Micheal Jackson
Town for living: Karamürsel (KOCAELI)
Place for holidays: Ölüdeniz (Fethiye)
Football club you like: Real Madrid F.C.
Pet (animal) : Kangal (Anatolian Shepherd)
Game you like: Futsal
Politic: Nationalist
3 wishes:
1. Elite round of UEFA Futsal Cup of my own futsal team.
2. Establish my own Futsal Academy.
3. Be part of Futsal until the end of my life.

Without Futsal what you would like to do:
Whatever thing related to sport.

Particular Hobbies:
Play station (Winning Eleven), Free Diving, Photograpy, Ice Skating, Climbing and Trekking.