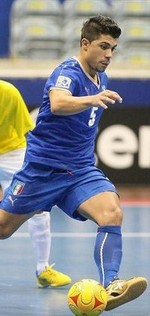 Details:



Height (cm): 1.73
Weight (kg): 79
Hair color: Black
Eyes color: Black
Married with: Carla Quaresma Novais Baptistella
Children: Cauan Matteo Baptistella
Shoes number: 42
Shoes trademark: Nike
Sportsman: Cristiano Ronaldo
Futsal Player: Vinicius
Futsal League you would like to play: Rússia
Match you remember (+): Itália x Rússia mundial 2008 (3/4 place)
Match you remember (-): Marca x Luparense (Final Italian championship 2011/2012)

Career Futsal (Pivot):
in Brazil (Barueri, Corinthias, São Paulo, Santa fé do Sul).
in Itály (Perugia, Napoli, Arzignano, Luparense, Montesilvano, Marca).
in Azerbaijan (Araz)

Palmares:
1 copa são Paulo juvenil 2002, São Paulo
1 campeonato interior 2003, Santa fé do Sul
1 campeonato italiano, scudeto 2004 /2005 perugia
1 supercopa Itáliana 2005 perugia
1 taca das nações 2006 Nápoles
Brônzo côn Lá nazionale al mondiale 2008
1 copa Itália 2009 Arzignano
1 UEFA Shampions Lega 2011 Montesilvano

Presence with Italy National Team: 45
Goals with Italy National Team: 23

After the Player Career you will remain in Futsal: Yes
Drink: Coca Cola
Food: Churrasco
Book: Atleta de Cristo
Women you like: Black
Music: Pagode
Singer: Turma do pagode
Town for living: Barueri
Place for holidays: Natal (Brazil)
Football club you like: Palmeiras
Pat (animal): Dog
Game you like: PES 2013
3 wishes: play with my children, win Futsal World Cup, play in Russia or Spain Championship
Without Futsal what you would like to do: Empresário
Particular Hobbies: going to the sea with family and friends.