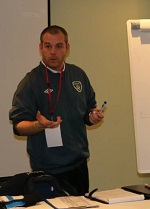 Details:



Name: Martin
Surname: Perciavalle
Nickname: Tato
Date of birth: 15/01/1975
Place of birth: Montevideo
Height (cm) : 171
Weight (kg) : 80
Hair color: Brown
Eyes color: Brown
Particular signs: None
Profession: Futsal Coach
Married with: Andrea
Children: Florencia and Avril
Shoes number: 41
Shoes trademark: Kelme
Sportsman: Conor McGregor
Futsal Player: Miguelin
Futsal Coach: Jesus Velasco, Mico Martic and Miguel Rodrigo
Preferred Futsal President: None
Futsal League you would like to coach: Japan or China

Match you remember (+): When we qualified with Ireland (Deaf Team) to the European Futsal Cup. A really physical match against Poland, more than the expected, but we overcome the challenge by winning with a solid 10-4.

Match you remember (-): When the team I was managing, Transilvania Futsal, lost 6-5 against FC Guillermo after finishing the first half 5-1. We couldn't control the match the way we should, wrong decisions were made and that match left us out of the Irish National Futsal Cup.

Goal you remember:
A brilliant volley scored by Emir Mustic from Saints and Scholars Futsal, after a loop-pass assistance from Stephen Thuita in a friendly match we played against Bohemians.
Also the technicality around the goal scored from Zoltan Droth against Ukraine in the last Euros (2016), is one goal I always remember.

Career:
As a player
1990 – 1996 Asociacion Cristiana de Jovenes
1997 – 1998 Club Banco Republica.

As a Coach

Futsal Clubs:
Saints and Scholars Futsal – Head Coach (May'2014 – Current)
Transylvania Futsal – Head Coach (May'2013 – Apr'2014)
Eden College Futsal – Head Coach (Sep'2012 – Apr'2013)
Shamrock Rovers – Coach (Jun'2011 – Aug'2012)
Sporting Fingal Futsal – Coach (Jun'2009 – Apr'2011)

National Teams:
Ireland (Deaf) 2013 - Current

Drink: Diet Coke
Food: BBQ
Car, Your Car: BMW
Clothing: Casual
Color: Blue
Actor: Mel Gibson
Actress: Meryl Streep
Film: Lord of the Rings
Music: All Latin Music
Singer: Gustavo Cerati, Phill Colins and Andrea Bocelli
Town for living: Punta del Este
Place for holidays: Orlando, Florida
Football club you like: Peñarol from Uruguay
Pet (animal) : Dog
Game you like: Apart from Futsal, Football and Basketball.
Politic: Not interested
3 wishes: Health, happiness and to be the best father I can be.

Without Futsal what you would like to do:
Strength and conditioning coach.

Particular Hobbies: PC and Console games, fishing and camping.