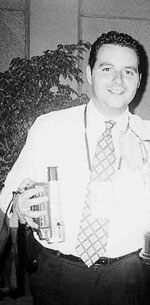 Details:



Thanassis G. Poulopoulos
Futsal Journalist – Chief Editor of "FIVE ON 5" – Greek Futsal magazine

Name: Thanassis
Surname: Poulopoulos
Date of birth: 23/04/1973
Place of birth: Sparti, Greece
Height (cm): 181 cm
Weight (kg): 82 kg
Hair colour: Black
Eyes colour: Brown
Profession: Futsal Journalist
Married with: Single
Children: -
Shoes number: 43
Shoes trademark: Kelme- Timberland
Sportsman: Kostas Kenderis
Futsal Player: Javier Lorrente
Futsal Coach: Tino Pérez, Dimitri Nicolaou
Futsal President: Theodor Darlas
Career:
I first started writing about Futsal in Greece, at the October 1996. I made the first monthly newspaper "Mini Football News" with Nikos Charalampopoulos. The same time I wrote daily about 600 words in the biggest sport newspaper «FOS». In 1997, we published the first Agenda Mini Football in Greece. After, I made my military duty and I came back edited "FIVE ON 5" monthly futsal magazine with Fotis Mitropoulos. I am writing only about FUTSAl, every day about 1200 words, at DERBY Sports – daily newspaper!

Year Futsal Sallary: I am not reach, but I am very happy!

Drink: Coke - Wine
Food: Greek food and Pasta
Car, Your Car: VW Polo 1.4 100ps
Clothing: Casual
Color: Blue
Actor: Harrison Ford – Al Pacino
Actress: Michelle Pfeiffer
Film: The Godfather I
Book: Many
Women you like: Blondes
Music: Pop-soul
Singer: Elton John
Town for living: Athens (Greece)
Place for holidays: Italy - Spain
Football club you like: AEK Athens
Pat (animal): Cats
Politic: Right
2 wishes:
Peace.
That Futsal become an Olympic Sport
Without Futsal what you would like to do:
I would like to be o lawyer (my University study)
Particular Hobbies:
Drinking coffee in Glyfada with my friends!
Riding my Piaggio VESPA!