Web:
http://www.futsalhellas.gr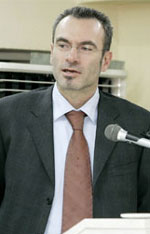 Details:



Passed away on: 15/4/2007

Name: Dimitri
Surname: Nicolaou
Date of birth: 12/03/1964
Passed away: 15/04/2007
Place of birth: Athens, Greece
Height (cm): 184
Weight (kg): 83
Hair color: Brown
Eyes color: Green
Particular signs: none
Profession : Pharmacist
Married with: Elena
Children:
Apostolo (13 March 2001),
Niki (08 May 2004)
Shoes number: 45
Shoes trademark: Adidas
Sportsman: Francesco Totti
Futsal Player:
Javier Lorente Penas,
Javi Rodriguez
Futsal Coach: Javier Lozano Cid
Futsal President: M. Papadopoulos
Futsal League you would like to play:
Italian Serie A1
Match you remember (+):
Croatia - World Stars (Zagreb (CRO) 1.12.2001)
Match you remember (-):
Calcetto A'90-Nafplio 4-6 (play-off 1999)
Goal you remember:
The 3-2, on extra time of the final game for the Greek championship 1998.
Career:
1997-98, 1998-99, 1999-2000 captain of Calcetto Athina '90,
2000-01, 2001-02, 2002-03 coach of Doukas SAC,
2003-04, 2004-05, 2005-06 coach of Platon.
Greek Champion 1998, Greek Champion 2000 (as a player of Athina 90)
Greek Champion 2001, Greek Cup Winner 2001 (as a coach of Doukas)
Greek Cup Winner 2003 (as a coach of Doukas)

Year Futsal Salary: ?...00000...$€
After the Player Career you will remain in Futsal: Yes, as a coach.
Drink: Water
Food: Italian Pasta
Car, Your Car: BMW 525
Clothing: Giorgio Armani
Color: Bordeaux
Actor: Michael Douglas
Actress: Gwyneth Paltrow
Film: The game
Book: The Alchemist, Paulo Coelho
Women you like: My wife Elena
Music: Italian Music
Singer: Eros Ramazzotti
Town for living: Rome
Place for holidays: Greek islands
Football club you like: Olimpiakos, Roma
Pet (animal): Fouskas and Bobas my Chow-chow dogs
Sports game you like: Tennis, water-ski.
Politic: Futsalists !
3 wishes:
Health for my family,
success for my company,
winning an European title as a futsal coach.
Without Futsal what you would like to do:
Yachting
Particular Hobbies:
Internet - Futsal Hellas (www.futsalhellas.gr), water-ski, cinema, cd-roms.