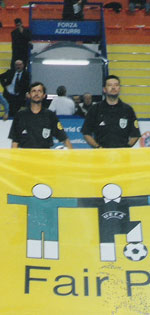 Details:



Ex-FIFA International Futsal Referee Since 2002

Height: 167 cm
Weight: 62 kg
Hair: Dark Brown
Eyes: Dark Brown
Shoes Nr.: 41
Civil Status: Married
Profession: Degree in Economics, specialization in Finance & Accounts
Fluent languages: Albanian, English, Italian
Spoken fairly: Maltese
My favourite cuisine: Italian
Favourite drink: wine
First International Match:
Belgium vs Finland on 7 Nov.2003 in Montesilvano, Pescara, Italy, valid for World Cup Qualifiers.
Hobbies: reading, travelling, classic music and of course football.