Courtesy:
The AFC.com
Key decisions made on Futsal and Beach Soccer competition formats
Friday, May 11, 2018
Bangkok: A number of key proposals shaping the future of Asia's elite Futsal & Beach Soccer competitions were approved, as Chairman Ali Kafashian Naeini oversaw the fourth Asian Football Confederation (AFC) Futsal & Beach Soccer Committee Meeting in Bangkok, Thailand, on Friday.
Held on the eve of the AFC Women's Futsal Championship 2018 final, the Chairman congratulated the finalists and thanked both the Football Association of Thailand and the Local Organising Committee for their professionalism and capability in organising the competition.
The Chairman also cited the expansion of the women's tournament, from eight participants in its inaugural 2015 edition to 15 in the current competition, as evidence of the progress being made in Asian futsal.
Identifying the need to build on the positive strides made in Asia's elite Futsal and Beach Soccer competitions, the Committee agreed on the qualifying and competition format for the 2019 AFC U-20 Futsal Championship.
The competition finals will feature 12 teams, comprised of one host nation, three teams from the ASEAN, Central and West Asian regions and two teams from the East Asian region.
Eager to expand on the success of the inaugural AFC Beach Soccer Championship, the Committee also approved Thailand as the host for the 2019 AFC Beach Soccer Championship
Proposed competition regulations for both tournaments were also approved.
Furthermore, the Committee agreed that the AFC Futsal Club Championship, which will feature 16 participating teams for the first time in 2018, would remain at the same size for its 2019 and 2020 editions.
Measures aimed at improving the development, fairness and competitiveness of Asian futsal competitions were also approved, including a proposal that participation in the AFC Futsal Club Championship be limited to clubs from Member Associations whose national teams also participate in the AFC Futsal Championship.
It was also agreed that players must be contracted and have participated for no less than half of the preceding domestic league season in order to be registered for the AFC Futsal Club Championship.
A decision on the host nation for 2019 AFC U-20 Championship was also deferred, with the AFC to undertake further dialogue with participating Member Associations.
Key decisions made on Futsal competition formats (Photo courtesy: AFC)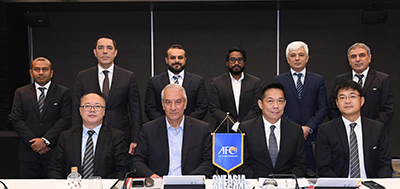 Posted by
Luca Ranocchiari
-->
luca.ranocchiari@futsalplanet.com